Do you know the item number? Use the
Quick Order
to save time!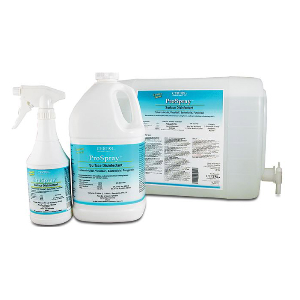 Lancaster

Standard Features:
• EPA Registered
• Kills 99.9% of viruses and bacteria in 1 minute
• Water Based Formula
• Preferred for a wide variety of surfaces including vinyl, metals, plastics, etc.
• Will not stain or bleach hard surfaces
• Stays wet on surfaces longer for full contact time
• So safe it is now EPA approved for use without gloves
• Deodorizer with light lemon scent
• Sustained antimicrobial action after application which is not found with alcohol or bleach compounds
• Meets CDC guidelines for surface disinfection in the presence of blood and other soils

From the CDC website Cleaning and Disinfecting for Coronavirus:
For disinfection, diluted household bleach solutions, alcohol solutions with at least 70% alcohol, and most common EPA-registered household disinfectants should be effective.

How can we improve this product description? Click here
Thank you ! We have received your message.