Architects & Designers
Products
Formica
Formica 180fx® laminate marks a revolution in surfacing with true-to-scale granite patterns that offer visual drama unmatched by any other laminate. Modern, sophisticated high resolution patterns focus on a neutral palette – versatile enough to pair with any interior design concept.

Formica 180FX

Formica HardStop™ Wall Panels
Unlike traditional laminate containing a paper core, HardStop™ panels have a treated fiberglass core for added durability, strength and fire resistance. HardStop™ is scratch, stain, water, and chemical resistant and offers a Class A fire rating. An excellent solution for high-performance wall panels, HardStop™ blends ease of installation and impact resistance with style. HardStop™ is available in all Formica® brand colors and patterns.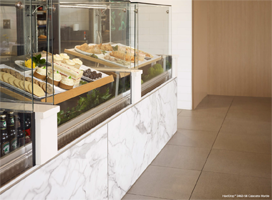 HardStop™ Decorative Protection Panels are easy to install and can be applied directly to drywall.
Formica Envision is high performance custom laminate. Let your creativity loose! Put the art you dream up – your designs, photography, logos, illustrations, or painting directly into laminate.

Formica Envision

Panolam Products
Conolite Aircraft Laminate
909 Surfaces
Other Products