Do you know the item number? Use the
Quick Order
to save time!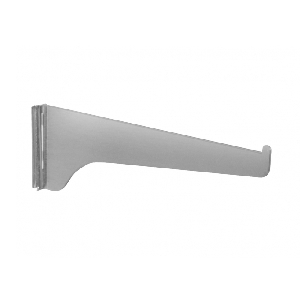 Knape and Vogt
Standard Duty Shelf Brackets

Standard Features:
• KV Model: KV180 (Typically used with KV80 standards)
• Available Lengths: 4", 6", 8", 10", 12", 14", 16", 18", and 20"
• Available Finishes: Anochrome, Almond, Black, Brass Look, Brown, and White (Titanium is Special Order)
• Material: 16-gauge steel (4"-12" lengths), 14-gauge steel (14"-20" lengths)
• Features: Weight rating of 120-320 lb per pair (based on length). Bracket has 2 engagement teeth to fasten bracket securely to standard. Shelf lip at end of bracket
• Made in USA
• Also available Special Order: KV Model #181 bracket. Lipless version of KV180. KV181 available only in Anochrome finish and 10, 12", 14", and 16" sizes. Made of 16-gauge steel

Packing: Standard box quantity of 10, bulk box quantities of 100.
Sold In: Standard box quantities of 10 sold in both broken and full box quantities. Discount available for full box and bulk orders. Bulk box quantities of 100 sold in full box quantities only.
How can we improve this product description? Click here
Thank you ! We have received your message.