Do you know the item number? Use the
Quick Order
to save time!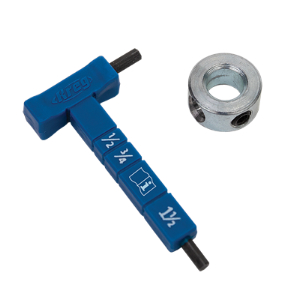 Kreg Tool
Easy-Set Stop Collar and Wrench

Standard Features:
• Stop collar and material-thickness gauge/wrench for Kreg® Pocket-Hole Jigs
• Works with materials from 1/2" to 1-1/2" thick
• Easy-set etched markings for 1/2", 3/4", 1-1/2" materials
• Thickness Gauge easily measures material thickness from 1/2" to 1-1/2" and has built-in hex wrench
• Direct replacement for drill bit included with Kreg® Pocket-Hole Jig 320, 310
• Also works with K5, K4, K3, R3, Mini, and Foreman



Packing & Sold In: Each.
How can we improve this product description? Click here
Thank you ! We have received your message.