Do you know the item number? Use the
Quick Order
to save time!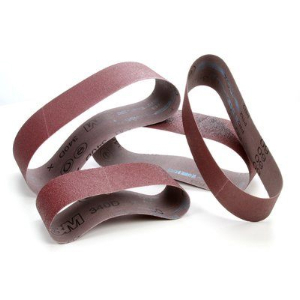 3M
Aluminum Oxide Portable Belts

Standard Features:
• 3M™ 340D and 341D general purpose portable sanding belt
• Aluminum oxide on X-weight cloth
• 340D is an open coat belt that provides a good cut with less loading
• 341D is a closed coat belt that provides a consistent finish
• Excellent all-around abrasive belt for everyday use
• 3" x 21", 3" x 24" and 4" x 24" sizes available
• 340D is available in 50 to 120 grit
• 341D is available in 24 to 120 grit

Packing: As shown below.
Sold In: Full box quantities only. Discount available on case quantity orders.
How can we improve this product description? Click here
Thank you ! We have received your message.