Do you know the item number? Use the
Quick Order
to save time!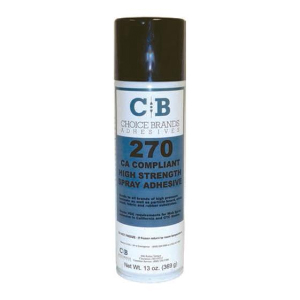 Formica Adhesives
CBA Low VOC Aerosol Adhesive

Standard Features:
• California OTC & Cal compliant
• Excellent adhesion to a variety of substrates including, but not limited to laminates, particle board, plywood, hardwood, leather, rubber, and metal
• High solids means extended mileage
• Soft spray allows for greater control of pattern and application rates
• Ready to Bond: 2-3 min.
• Open Time: 30 to 45 min.
• VOC Content: 25%
• Coverage: 2.5-3 dry grams/sq ft min.

NOTE: These items may incur a hazardous material shipping fee.

***NOTE: PRODUCT NOT AVAILABLE IN ALL WURTH BAER SUPPLY DISTRIBUTION AREAS, PLEASE CALL 800-289-2237 FOR FURTHER ASSISTANCE***

Packing & Sold In: Each.
How can we improve this product description? Click here
Thank you ! We have received your message.