Do you know the item number? Use the
Quick Order
to save time!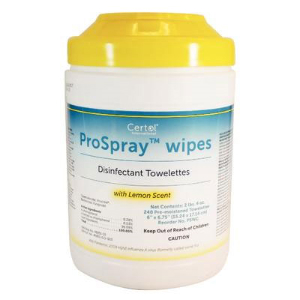 Certol
ProSpray™ Disinfectant Wipes
Ready to Use, Lemon Scented

Standard Features:
Ready-to-use, alcohol-free, disposable surface-disinfectant wipes. Use to clean and disinfect a wide range of nonporous surfaces including metal, plastic, and vinyl. Kills HIV-1 in 1 minute and salmonella, pseudomonas, E. coli, and TB in 10 minutes. Also kills poliovirus and hepatitis B. Lemon scented. Intermediate level.

From the CDC website Cleaning and Disinfecting for Coronavirus:
For disinfection, diluted household bleach solutions, alcohol solutions with at least 70% alcohol, and most common EPA-registered household disinfectants should be effective.

The EPA has approved Certol's family of liquid disinfectants for inclusion in List N: Disinfectants for use against SARS-CoV-2. EPA registration is #46851-12


How can we improve this product description? Click here
Thank you ! We have received your message.