Do you know the item number? Use the
Quick Order
to save time!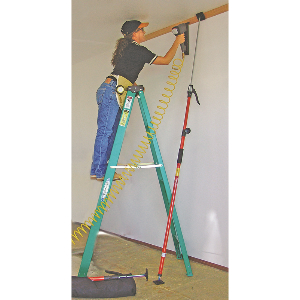 Fastcap
Tall Support System, 57" to 144" Extension

Standard Features:
• This jack system enables you to support materials (crown molding, drywall, etc.) overhead and to create dust barriers
• Single jack can support up to 150 lb. and extends from 57" (closed position) to 144" (fully open position)
• Ergonomic pump handle adjusts jack in 1/2" increments
• Top and bottom feet are 3" x 3" and articulate to provide a wide array of support variations
• System includes: (2) 3rd Hands, (4) Universal Feet and (1) Standard Carrying Bag

Packing & Sold In: Each.
How can we improve this product description? Click here
Thank you ! We have received your message.