Do you know the item number? Use the
Quick Order
to save time!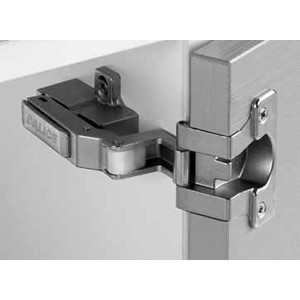 Salice America
Institutional Hinge-Grade 1

Standard Features:
• Series M hinges conform with FIRA level 5 and ANSI Grade 1 requirements and meets ISO 9001 and ISO 14001 environmental certification
• 270° opening for 19mm thick doors
• 180° opening for doors up to 24mm
• Compatible with all Salice Series 200 hinge mounting plates: both clip-on and slide-on
• Variable Overlay: Full Overlay Recessed Knuckle, Full Overlay External Knuckle, Half Overlay Recessed Knuckle, Inset Recessed Knuckle

• Nickel plated for corrosion resistance
• Independent, automatic three dimensional adjustment
• Lifetime warranty
Hinge cup boring pattern: 45mm x 9.5mm
Hinge cup diameter: 35mm
Hinge cup depth: 12mm

***NOTE: PRODUCT NOT AVAILABLE IN ALL WURTH BAER SUPPLY DISTRIBUTION AREAS, PLEASE CALL 800-289-2237 FOR FURTHER ASSISTANCE***

Packing: Full case quantity of 100.
Sold In: Both broken and full box quantities. Discount available for full box orders.
How can we improve this product description? Click here
Thank you ! We have received your message.