Do you know the item number? Use the
Quick Order
to save time!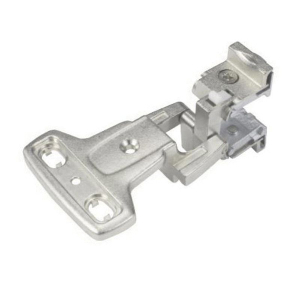 Grass America
Institutional Hinges-Grade 1
Designed for High Usage Frameless Applications

Standard Features:
• Alternative to non-adjustable 5 knuckle institutional hinges, offers ease of installation, adjustment and clean look
• Tool-less assembly of the hinge arm to the hinge cup - door is removable
• Hinges have a height adjustment of + 2mm and side to side adjustment of 2mm for easy alignment of door edge gaps
• Wide 270 degree opening angle on full overlay
• All hinge arms include cover caps to conceal mounting screws
• Features integrated door catch, keeps doors in closed position without additional hardware
• Knuckle features hospital tip design
• Available in Bright Nickel Plated or Black finish
• Hinge cup (45mm) and hinge arm are sold separately, two types of hinge cups are available: screw-on and dowelled. Four types of arms are available
• Meets ANSI/BMHA A156.9-2003 Grade 1 Hinge requirements

Packing: As shown below.
Sold In: Pairs, both broken and full box quantities.
How can we improve this product description? Click here
Thank you ! We have received your message.