Do you know the item number? Use the
Quick Order
to save time!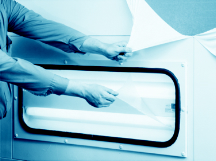 Binks
Strippable Clear Boothcoats

Standard Features:
A premium quality water based product for maintaining the cleanliness of booth lights and windows. Simply brush or spray the clear coating on lights and/or windows. When the coating is in need of cleaning, simply peel off in sheets. A plus in maintaining good lighting and visibility. Meets OSHA and EPA requirements. Protects paint spray booth walls from overspray

• Water based
• Easy on - sprays on in minutes
• Easy off - peels off in sheets
• Fast drying
• Reduces costly clean-ups and downtime
• Excellent coverage per gallon
• White coating is for sheet metal in booth
• Clear is for glass light fixtures and windows
• Dries clear

Packing: BN29-248 4 gallons per box. Available any quantity.
Packing: BN29-249 5 gallon pails. Available any quantity.
How can we improve this product description? Click here
Thank you ! We have received your message.