Do you know the item number? Use the
Quick Order
to save time!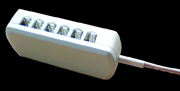 Hera Lighting L.P.
LED Low Voltage Puck Accessories
LED Terminal Blocks for LED Drivers

Standard Features:
• Extra terminal block for LED Driver
• Designed to add extra KB12-LED pucks to a Driver

Packing: 4 each per box.
Sold In: Both broken and full box quantities. Discount available for full box orders.





How can we improve this product description? Click here
Thank you ! We have received your message.