Do you know the item number? Use the
Quick Order
to save time!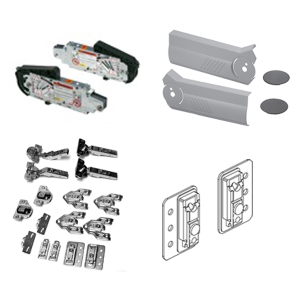 Blum®, Inc.
Blum® AVENTOS HF Bi-Fold Lift System
For Face Frame or Panel Cabinets

Standard Features:
• For both face frame and panel cabinets
• Offers numerous design options for wooden, five-piece and aluminum frame doors
• Required component parts based on door size, door weight and material species
• Easy installation and three-dimensional adjustment
• No protruding parts ensuring safety during transport and installation
• Trial application recommended when the required power factor is in a borderline area of lift mechanisms
• One telescopic arm is required per lift mechanism
• Three hinges and mounting plates are required for cabinet widths over 1219mm (48") or combined door weight of 26.5 lb

***NOTE: PRODUCT NOT AVAILABLE IN ALL WURTH BAER SUPPLY DISTRIBUTION AREAS, PLEASE CALL 800-289-2237 FOR FURTHER ASSISTANCE***

Packing: As shown below.
Sold in: Both broken and full box quantities. Discount available for full box quantity orders.

How can we improve this product description? Click here
Thank you ! We have received your message.