Do you know the item number? Use the
Quick Order
to save time!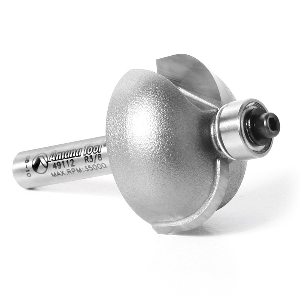 Amana Tool
Cove w/Ball Bearing Guide 2-Flute

Standard Features:
• The covetto form—produced by the cove bit—is one of the classic building blocks for many molding profiles
• Use the cove as well to detail the edges of casework, doors and drawers, posts and columns
• Use in handheld or table-mounted routers. Large-diameter tools must be run at reduced speed.
• For best results with a large radius cutter, make a preliminary cut with a smaller radius bit or chamfer the work piece to reduce the amount of stock to be removed in the finish pass. This will produce a smoother finish and prolong tool life

• Diameter (D) 1-1/8"
• Radius (R) 3/8"
• Cutting Height (B) 9/16"
• Shank (d) 1/4"
• Overall Length (L) 2"

How can we improve this product description? Click here
Thank you ! We have received your message.