Do you know the item number? Use the
Quick Order
to save time!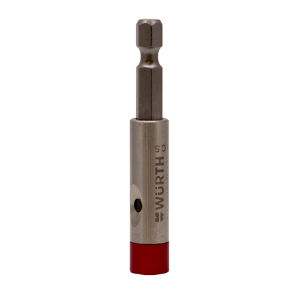 Würth
Insert Bit Holders, Magnetic, Hex

Standard Features:
• With a soft push on the button, the bit will shoot forward due to the internal spring and position itself for easy removal
• Tested to 60n torque
• Extra strong magnet holds the screw in place
• The One Touch Bit Holder can be operated with gloves
• Packed in clear PVC box for safe storage
• Stainless steel housing
- Drive: 1/4 inch
- Drive type: Hexagon
- Tip size: 1/4 inch
- Tip type: Internal hexagon
- Sleeve diameter: 10.5 mm
- Blade length: 40 mm
- Length: 66 mm

Packing & Sold In: Each.
How can we improve this product description? Click here
Thank you ! We have received your message.