Do you know the item number? Use the
Quick Order
to save time!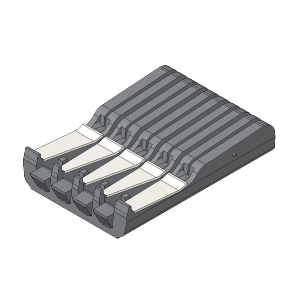 Blum® Inc.

Standard Features:
• Attaches to ORGA-LINE utensil set or drawer bottom
• High quality stainless steel combined with wear resistant nylon parts in gray
• Holds up to nine knives of varying sizes
• Plastic and stainless steel construction
• Four handle supports for large knives
• Dishwasher safe to 170° F
• Set Includes:
(1) Knife holder
(4) Handle supports
(1) Locating tab
• Dimensions: 7-1/16" x 11" x 2-3/8"

***NOTE: PRODUCT NOT AVAILABLE IN ALL WURTH BAER SUPPLY DISTRIBUTION AREAS, PLEASE CALL 800-289-2237 FOR FURTHER ASSISTANCE***

Packing & Sold In: Each.
How can we improve this product description? Click here
Thank you ! We have received your message.