Do you know the item number? Use the
Quick Order
to save time!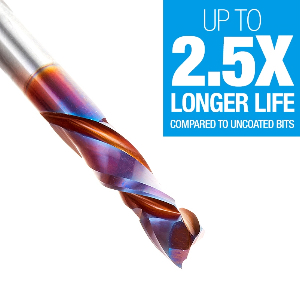 Amana Tool

Standard Features:
• The ULTIMATE CHOICE for MDF/Laminate & Plastic Industrial CNC Cutting
• nACo® coating is a micro thin ceramic coating which enables the tools cutting edge to retain crucial sharpness and lubricity, along with providing longevity and producing cutting results of the highest quality
• Coating prevents high heat and oxidation which is detrimental to cutting tool performance
• Multi-colored hues on bit will dissipate upon use and yet coating will remain fully effective
• nACo® offers approximately 4,500 Vickers for impressive solid hardness on cutting areas of the tool, for an increase of up to 2.5 times compared to uncoated bits

Packing: Individually packed.

How can we improve this product description? Click here
Thank you ! We have received your message.