Do you know the item number? Use the
Quick Order
to save time!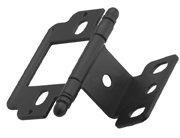 Amerock Corporation
Full Inset, Partial Wrap Free Swinging Hinges
Ball Tip for 3/4" Thick Doors

Standard Features:
• Two #6 x 5/8" and four #6 x 1/2" screws included

Packing: Full box quantities of 50 each.
Sold In: Each, AMPK sold in both broken and full box quantities. Discount available for full box orders. AMCM sold in full box quantities only.
How can we improve this product description? Click here
Thank you ! We have received your message.