Do you know the item number? Use the
Quick Order
to save time!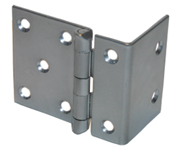 Rockford Process Control, Inc.
Flush Door Hinges, 5 Knuckle
For Doors 3/4" Thick, 860 Series

Standard Features:
• Barrel Height: 2-1/2" (63.5mm)
• Material Thickness: 0.083" (2.1mm)

Packing: As shown below (screws included).
Sold In: Standard Packing: Both broken full box quantities. Discount available for full box orders. Bulk: Full box only.
How can we improve this product description? Click here
Thank you ! We have received your message.