Do you know the item number? Use the
Quick Order
to save time!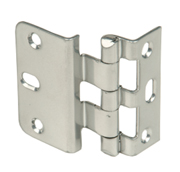 Rockford Process Control, Inc.

Standard Features:
• RPC 349 Series
• Hinge is designed for use with inset doors having a rabbet depth of 3/8"
• Hospital tips are standard
• Barrel Height: 2-1/2" (63.5mm)
• Material Thickness: .072" (1.8mm)

Packing: As shown below (screws included).
Sold In: Standard Packing : Both broken & full box quantities.
Discount available for full box orders. Bulk: Full box orders only.
How can we improve this product description? Click here
Thank you ! We have received your message.