Do you know the item number? Use the
Quick Order
to save time!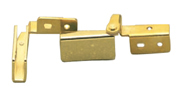 Wood Technology
Side Wall Mounted Hinges for Overlay Doors

Standard Features:
• Free swinging, requires the use of a latch to hold door closed
• Glass Thickness: 3/16" - 1/4"
• Face Plate Size: 3/4" H x 9/16" W
• Angle of Opening: 194°
• Mounting: Sidewall top & bottom
• Amount of Overlay: 7/32"

Packing: As shown below with locking screws.
Sold In: Both broken and full box quantities. Discount available for full box orders.
How can we improve this product description? Click here
Thank you ! We have received your message.