Do you know the item number? Use the
Quick Order
to save time!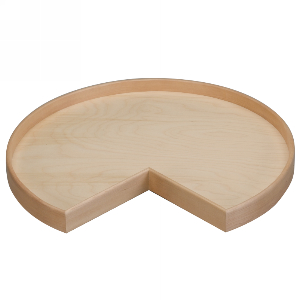 Rev-A-Shelf Corporation
Premium Lazy Daisy Natural Wood Independently Rotating, Single & Two Shelf Sets

Standard Features:
• Rev-A-Shelf Lazy Daisy Natural Wood Series is Rev-A-Shelf's premium level Lazy Susan product offering
• Shelves have high steam bent solid maple rim in two styles: standard height (1/2" wide x 2-5/8" tall) and "Tall Rim" (1/2" wide x 3-1/4" tall)
• Shelves are available in 18", 28" & 32" diameters
• Shelves have 5/8" thick maple plywood bottoms

• Available shelf options:
- Single shelf offered in single and bulk packs
- Single shelf with aluminum bearing attached offered in single and bulk packs
- Two shelf set with telescoping shaft accommodating interior cabinet heights of 26" - 31"

• RSLD4NW-472 Series includes heavy duty chrome plated hardware and shaft
• RSLD4NW-401 Series Trays include a very quiet aluminum bearing that has a sub panel attached and that sub panel has an access hole for easy installation
• RSLD4NW-441 Series trays are drilled for RAS hardware

Packing: Individual and bulk packs as shown below.
Sold In: Individual units sold any quantity. Bulk packs sold in full box quantities only.
How can we improve this product description? Click here
Thank you ! We have received your message.