Do you know the item number? Use the
Quick Order
to save time!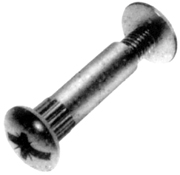 Atlantic Hardware

Standard Features:
• Plastic insert has plastic socket and screw head with galvanized steel threaded bolt
• Made of corrosion resistant steel
• Ribbed to prevent rotation while tightening
• 1 set = 1 male & 1 female

Packing: Standard boxes of 100 sets and bulk packs as shown below.
Sold In: Full box quantities only. Discount available for bulk box orders.
How can we improve this product description? Click here
Thank you ! We have received your message.