Do you know the item number? Use the
Quick Order
to save time!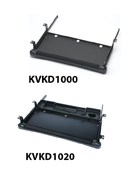 Knape and Vogt

Standard Features:
• KV Model No.: KD-1000, KD-1020
• Tray size: 28-3/4" long x 10" wide
• Mounting: Brackets mount in outboard position under work
surface for application widths 29" or greater or in the inboard
position for widths less than 26 -3/4"
• Precision ball bearing slides with lockout provide 75 lbs. load rating
• Integrated 28-3/4" long Lycra gel cushion wrist rest wraps around front edges of drawer
• Model KVKD1020 has integrated 25" long x 5" wide accessory
tray and over-extension slides
• Finish: Black

Packing & Sold In: Each
How can we improve this product description? Click here
Thank you ! We have received your message.