Do you know the item number? Use the
Quick Order
to save time!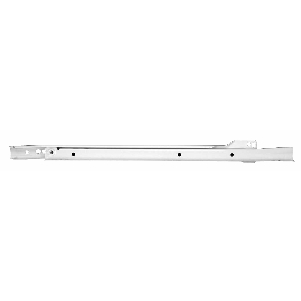 Knape and Vogt
Epoxy Coated 75 lb Euro Drawer Slides
3/4" Extension Bottom/Side Mount Self-Closing

Standard Features:
• KV Model #1805 Series
• Side clearance 1/2" (12.5mm) plus, 1/32" minus, 0" each side
• Height (35.5mm)
• 32mm Pattern: Yes
• Available finishes: Almond, White
• Features: Self-closing design, positive double-out stop, lift out disconnect
• Recommended fasteners: #6 x 5/8" Phillips Pan Head

Packing:
Taped Pairs: Pair of slides taped together without screws, 20 taped pairs per box.
Q Pack: 100 components (4 components: left and right hand cabinet member, left and right hand drawer member) per box (without screws).

***For Q-pack packaging, please note that to make complete sets, you must purchase the drawer member rights (Q96), drawer member lefts (Q97), cabinet member rights (Q98), and cabinet member lefts (Q99).***

Sold In: Taped-packs sold in any quantity. Q-packs sold in full box quantities only. Rear sockets sold in any quantity.
How can we improve this product description? Click here
Thank you ! We have received your message.