Do you know the item number? Use the
Quick Order
to save time!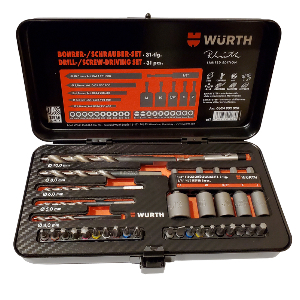 Würth
Limited Edition Drill and Drive Set

Standard Features:
• Limited edition with Reinhold Würth signature
• Printed foam insert in carbon finish
• Easy and fast finding of the right tools
• Tool sizes are marked on the insert for easy organization
• Drill bits feature Smart Step Technology for high precision drilling in hard and soft woods, steel, aluminum, plastic, non-ferrous metals

Contains:
• (5) Twist drill bits: 4mm, 5mm, 6mm, 8mm, 10mm
• (1) 1/4" Magnetic Bit Holder with one-handed quick change function
• (20) 1/4" bits: AW10, AW20, AW30, AW40; TX10, TX15, TX20, TX25, TX30, TX40; PH1, PH2, PZ1, PZ2, PZ3; Hexagon 3, 4, 5, 6; Slotted 0.6 x 5.5mm
• (5) 1/4" Magnetic Nut Setters: 7mm, 8mm, 10mm, 13mm, and 3/8"
How can we improve this product description? Click here
Thank you ! We have received your message.