Do you know the item number? Use the
Quick Order
to save time!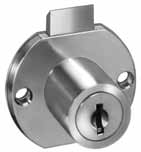 CompX National
Springbolt Locks for Drawers

Standard Features:
• Requires 7/8" diameter hole for cylinder
• Key removable in locked position only
• Spring mechanism automatically engages lock when door gets closed
• Supplied with two keys and mounting screws. If trim ring is required, see NLC2017 Series
• Stock Keying is specified on table below:
KA = All Keyed Alike to key number specified, master key will not work on these locks
• Other key changes available from National Lock via SPECIAL ORDER

Packing: 25 each per box.
Sold In: Both broken and full box quantities. Discount available for full box orders.
How can we improve this product description? Click here
Thank you ! We have received your message.