Do you know the item number? Use the
Quick Order
to save time!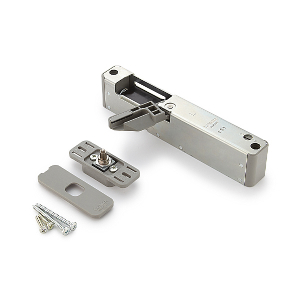 Sugatsune America
Lapcon Door Damper, Recessed Type

Standard Features:
• Concealed type that is hidden from view when door is closed
• Self and soft-closes within a 10° radius of closing. Closes gently, preventing slamming
• Doors feel lighter to open compared to standard door closers
• Closing speed adjustable post-installation
• Counter plate has 3-way adjustment post-installation
• 2011 Good Design Award Winner
• Recommended Door Specifications:
-Thickness : Min. 1-5/16"
-Width : Max. 35-7/16"
-Weight : 15 - 40 kg
• For doors 40-100 kg, please use SLLDD-V100. Surface mount without mortise type SLLDD-S also available.
• Successfully passed 100,000 open/close cycles in a private test
• Recommended hinge: HES3D series (special order)
• Adjustment Jig LDD-V-JIG & Template LDD-V-TMP available (special order)
• RoHS compliant
• Includes screws and paper template for installation

Please take the following precautions when considering this hardware for your application:
• For interior use at room temperature (32~104°F) only - not intended for use under high winds, high temperature or humidity, or where the hardware may get wet
• Effectiveness may decrease over time if door is slammed closed continuously
• Closing performance may vary depending on door latch bolt
• If being used at the entrance of a room where air cannot move freely (vault, cellar, etc.), the ambient air pressure may affect the closing speed and power of the hardware
• Do not hang on/hang anything on the arm as it may damage the hardware
• Please read the installation instructions included with the hardware fully before installation
• After installation and during normal use, please check the fasteners and hardware on a regular basis

Packing: As shown below.
Sold In: Both broken and full box quantities.
How can we improve this product description? Click here
Thank you ! We have received your message.