Do you know the item number? Use the
Quick Order
to save time!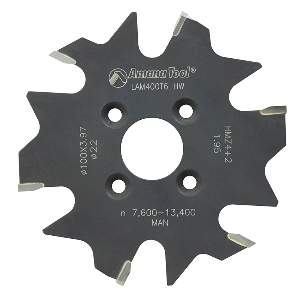 Amana Tool
Plate Joiner Replacement Cutters

Standard Features:
• European design with anti-kickback 'fingers' that limit chip-thickness while providing a safer, faster cut
• Fits Lamello, Virutex, Freud, Kaiser, Elu, DeWalt and other makes of plate-jointer machines. Packaged in a reusable protective foam sleeve
• Diameter: 100 mm
• Number of Teeth: 6
• Kerf: 4.0 mm
• Bore: 22 mm

Packing: Individually packed.
How can we improve this product description? Click here
Thank you ! We have received your message.