Do you know the item number? Use the
Quick Order
to save time!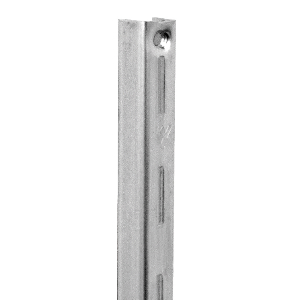 Knape and Vogt
Extra Heavy Duty Shelf Standards

Standard Features:
• KV Standard Model: KV87 (Typically used with KV186 or KV187 series brackets)
• Dimensions: 7/8" wide x 11/16" deep, 2" slot adjustment
• Available Lengths: 24", 36", 48", 60", 72", 84" and 96"
• Available Finishes: Anochrome, Stainless Steel and White Epoxy
• Material: Heavy duty 12 gauge steel
• BHMA Grade 2 compliant
• Features: Shelf brackets are adjustable in 2" increments. Screw holes are spaced 12" apart on center.
• Recommended Fasteners (sold separately): #10 flat-head wood screw

Packing: As shown below.
Sold In: Both broken and full box quantities. Discount available for full box orders.
How can we improve this product description? Click here
Thank you ! We have received your message.